Luca Molinari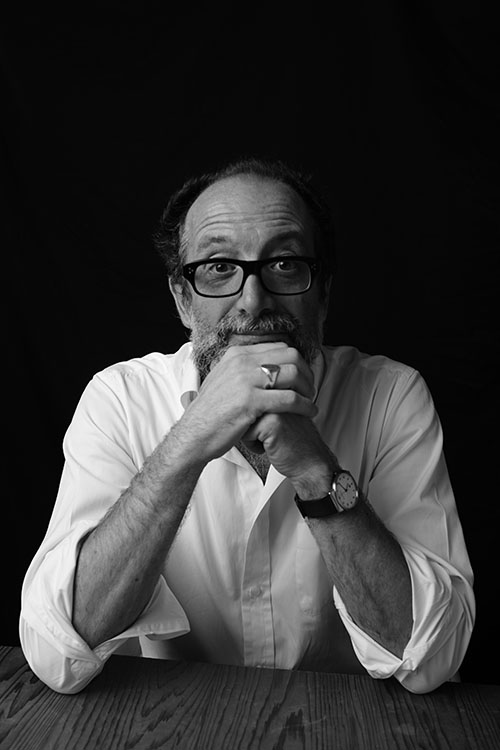 Architect, critic, curator and Full Professor of Theory and Architectural Design at the University of Campania "Luigi Vanvitelli".
PhD in Theory and History of Architecture at TU Delft (NL).
He collaborates as an independent author with Italian and international magazines including: Corriere della Sera, La Stampa, L'Espresso, Domani, Domus, Lotus; he is currently editorial director of the magazine Platform Architecture and Design.
From 1995 to 2019 he was editorial manager for the Architecture and Design sector of the Skira Editore.
He currently collaborates for Architecture and special projects with the Marsilio Group. In October 2020 Luca Molinari has been appointed scientific director of M9 Museum in Mestre.
Between 2000 and 2003 he is the scientific director of "Portaluppi Project" for Piero Portaluppi Foundation in Milan.
Between 2001 and 2004 he was scientific director for architecture and urban planning at the Triennale di Milano and member of the scientific committee for which he conceived and curated the first edition of the Gold Medal for Italian Architecture (2003), the first edition of Festa per l'Architettura (2004) and the series of conferences "Cantieri aperti" (2004-05).
Between 2012 and 2018 he has been member of the Consiglio Superiore dei Beni Culturali e Paesaggistici of Mibact.
Among the most important curatorial projects in the museum and cultural field: scientific coordination for the ADI Design Museum (Milan, 2019); The Master of the Net Garden, Three projects. Suzhou (China, 2019); The far/o/other, (Istanbul, 2019); Divina Sezione. L'architettura italiana per la Divina Commedia (Reggia Caserta, 2018); La città e l'acqua (II Biennale di Pisa, 2017); Protean. 25 years of design Dialogue with Edge Design, (Suzhou, 2017); Scientific curatorship for the New Museum of the History of the City of Istanbul (Istanbul, 2016- ); scientific coordination of the exhibitions Clusters, Expo Milano 2015; Noi. Storie di comunità, idee, prodotti e terre reggiane (Palazzo dei Musei, Reggio Emilia, 2015-1016); Brera, città aperta! Dialoghi, progetti e visioni del contemporaneo (Pinacoteca di Brera, Milan, 2014); Environments and Counter Environments. Italy. The New Domestic Landscape, MoMA, 1972 (with Mark Wasiuta and Peter T. Lang, The Graham Foundation for Advanced Studies in the Fine Arts, Chicago, 2013; The Swedish Museum of Architecture, Stoccolma, 2011; Disseny Hub Barcelona, 2010-2011; Swiss Architecture Museum, Basilea, 2010; The Arthur Ross Gallery, New York, 2009); GOING PUBLIC. Gli spazi pubblici per la città del futuro (Villa Panza, Varese, 2013); Dreaming Milano. Progetti, sogni e visioni per una metropoli che cambia (Mazzotta Foundation, Milan, 2009); Le forme del cibo (Opos, Milan, 1996); Stalker (Opos, Milan, 1996); I sentimenti del 2000. Arte e fotografia dal 1960 ad oggi (Triennale di Milano, 1999); Santiago Calatrava. Work in Progress (Triennale di Milano, 1998-99), Effetti Collaterali (Triennale di Milano, 2002); Medaglia d'oro per l'architettura italiana (Triennale di Milano, Napoli, Roma, Singapore and Guang-Zhou, 2004-05); Piero Portaluppi (Triennale di Milano, 2004); 20.06. Annali dell'architettura (Palazzo Reale, Napoli, 2006).
Between 2007 and 2017 he was scientific director and curator of the exhibition program of the gallery SpazioFMG for Contemporary Architecture in Milan.
In 2008 he was curator of the Italian Pavilion at the Design Festival in London with the exhibition SustainabItaly, in 2010 he was curator of the Italian Pavilion at the XII International Architecture Exhibition, Venice Biennale, with the exhibition Ailati. Reflections from the future.
Among his publications: Dismisura. Teoria e progetto per l'architettura italiana (Skira, 2019); Le case che siamo (nottetempo, 2016); Padiglione Italia. Expo 2015 (Skira, 2015); Ailati. Reflections from the Future (Skira, 2010); Continuità: a response to identity crises. Ernesto Nathan Rogers and Italian architectural culture after 1945, (TU Delft, 2008); Tadao Ando. Museums (Skira, 2009); Barcellona: architetture e spazi urbani 1975- 1992 (Clup, 1993); Santiago Calatrava (Skira, 1998); Atlante. Tendenze dell'architettura americana contemporanea. 1990-2000 (Skira, 2001), Massimiliano Fuksas. 1970-2005 (Skira, 2005).
In 2014 he founded Luca Molinari Studio in Milan.
Among acknowledgements for his activities, research and critique: in 2006 he received the Ernesto Nathan Rogers Award for architectural criticism and communication at the X International Architecture Exhibition, Venice Biennale; in 2008 the UIA Jean Tschumi Prize for architectural Criticism.